October 23rd, 2012 | 0 Comments - Leave a Comment
After sharing with you for almost the past year, I wanted share my experiences the day of my Door County wedding, which I will do today.  I'd also like to share a review of my vendors and recommendations to future DC brides to be, which I will do in posts to come.
Waking up the morning of the wedding felt so surreal.  After all that work and planning, it was our wedding day and I would be marrying my best friend that day.  I expected to be extremely nervous from the moment I woke up, but I was surprisingly calm.  I think the view I woke up to from our room at the Landmark had something to do with how calm I was (you can see it below).
One of the things that kept me pretty relaxed the morning of the wedding is that we did not have to start getting ready for the wedding until noon, since our wedding ceremony was not until 4:30.  At noon, we met up with Jayson's cousins, Jessica and Vanessa, who happen to be awesome hair styles at Salon Three Twenty-Five, and the girls began getting dolled up.  Shortly after we started getting ready our photographer, Jason Mann, arrived to take pictures of us getting ready and the before the ceremony pictures.
It was not until just before the ceremony that I started to get nervous (right after the picture above).  Now looking back I had no reason to be nervous, because the ceremony was truly one of the most magically times in my life.  Our ceremony was short and sweet, which was good, because it was pretty chilly out.
After the ceremony, our guests headed inside for our popcorn bar from Double Delights and cocktails while we were off for pictures. — I'm still getting compliments on the popcorn! — It felt like only a moment went by, and we were back for our reception.  At our reception our DJ actually saved our butts with cake knife. Yes, we forgot to get a cake knife!!  Who would have thought a DJ would have a cake knife with him, but he said he carries all kind of different show stopping items for the weddings he works.
After dinner, great speeches, super yummy cake (I made sure to sample all 3 flavors) it was time for our "sassy dance" we had been taking lessons for months to pull off.
After we nailed the dance, I finally was able to relax, dance, and enjoy our guests, which was one of my favorite parts of the wedding.
At the end of the night, I was sure glad I did not blink that day, or I might have missed it all.  It is so true what they say, that the day just flies by, but I will take solace that the memories will last a life time!
Dawn is one of our featured Brides-To-Be. See more of her stories
and other Door County Brides-To-Be stories in our Wedding Inspiration.
September 11th, 2012 | 0 Comments - Leave a Comment
I absolutely love when couples add little personal touches to their weddings like table numbers with pictures.  I have seen many variations of this idea from pictures when the couple were children to pictures of the couple holding the number of the table.
Since I am not the most crafty person, but wanted the crafty look to the table numbers I set out to Etsy to try to find the perfect table number.  I came across a lady that makes table numbers out of wood blocks, by attaching a photo and the number over it and I knew I found the perfect table numbers.  We currently have our order in and are awaiting our table numbers to arrive.  Below is a picture prior table numbers this vendor has created: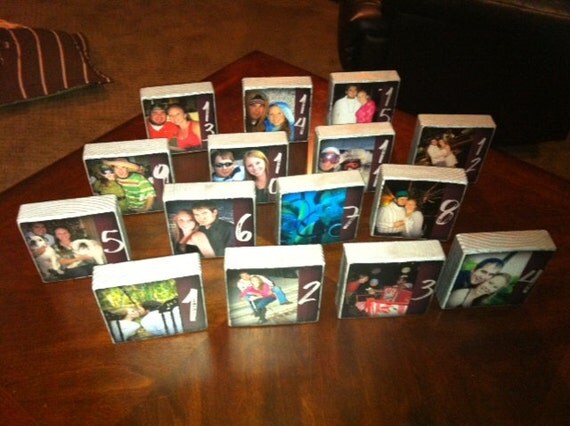 Dawn is one of our featured Brides-To-Be. See more of her stories
and other Door County Brides-To-Be stories in our Wedding Inspiration.
August 29th, 2012 | 0 Comments - Leave a Comment
As many Door County brides have done and will continue to do, I have been planning our wedding from a distance (just shy of 200 miles). I was fairly intimidated when I first started the planning process, because I did not know the area or the vendors. In my hometown I could come up with a list of vendors I would use for cake, reception, DJ and so on without research, but outside of this area I was lost. Looking back now the planning process and selecting vendors has lead to a fun adventure of trying new things and going to new places.
One of the key things that I have done throughout the planning process is make every trip to Door County count. Each time in the last year, we have made our way to Door County the trips were full of meeting with vendors and trying new things in the area that we could possibly incorporate to our wedding.
Another of the key to planning a Door County wedding from a far is to read online reviews, but with a grain of salt. This was a pretty time consuming process at times, but I think it was really helpful in selecting some of our vendors. We also did talk with locals when we were in the area to get their thoughts and opinions as well.
I also asked questions on the Door County Bride facebook page and received great advice/opinions. There are former Door County Brides and locals that are on the facebook page and very willing to share their thoughts and opinions from what I have seen and experienced.
Let me know if you have any questions for me or if you have any advice for future Door County Brides that you would like to share!
Dawn is one of our featured Brides-To-Be. See more of her stories
and other Door County Brides-To-Be stories in our Wedding Inspiration.
August 24th, 2012 | 0 Comments - Leave a Comment
We are down to the one month mark, and currently I feel like a professional juggler with 100 balls in the air trying not to let any of them drop. So with all that I have currently going and will have within the next month, I have come up with a plan to stay sane.
Here is the plan/reminders to myself:
Make notes (there is no way I can remember ever detail myself without notes)
Take help when offered/let go of my super women syndrome (I cannot be everywhere and do everything and that is ok)
Plan ahead what tasks I want to get done for the week ahead/schedule time to do them
Use my theknot.com check list
Breath/take time for me/take time for my fiancé
Most importantly I know throughout the next month I need to remember the why behind all of this, which is to marry my best friend. When I get overwhelmed with all of the time, money or energy going into this, I will remind myself that it is to celebrate our love for each other with our family and friends, so it is worth every second, penny, and bit energy spent.
Are there any tips or advice that you would add for the last month of wedding planning?
Dawn is one of our featured Brides-To-Be. See more of her stories
and other Door County Brides-To-Be stories in our Wedding Inspiration.
August 14th, 2012 | 0 Comments - Leave a Comment
>> A fun little twist on the Door County Bride-To-Be segment this week – a post from the groom's perspective! Hope you enjoy.
My fiancé thought it would be a great idea if one of her many posts, would come from the groom's perspective of wedding planning. A little reluctant of the idea I said, absolutely, I would love to help you out. One important thing I have learned through this wedding planning process is that, any task large or small, will help relieve stress from the bride.  And let's face it guys, adding stress on the bride's side only adds stress to both individuals, causing stress in the relationship.
My wedding task was planning and creating the vision of the wedding cake. Guys it's great to want to take the initiative and plan a particular part of the wedding, but unless you've done this before, or are a wedding planner yourself, don't take on a task all by yourself. Ask to help the bride by finding pictures for cake ideas, contacting bakers to set up tastings, or just simply gathering prices from bakers. 
Just because you want to help your bride out doesn't mean that you have to go out and concur the wedding planning world and plan an entire three tier cake that will woo all your guests. Getting the bride's input, and keeping her included in planning, will help relieve your stress on whether she will hate the cake. Or it could cause added stress on the bride because now you both have to plan something last minute that both of you will now have to agree on. Like I said in the paragraph above, sometimes it's the small tasks that relieve the bride's stress the most. 
Lastly, if the bride asks you to complete a certain task, don't wait. Another thing that I have learned is that there is apparently a wedding planning timeline, which means certain things have to get done in certain order, so when she asks you to do something complete the task right away so the wedding planning process can continue.
Throughout the planning process, your bride-to-be will be constantly gathering input from vendors, friends, other brides, family members, and people that she doesn't even know, but the most important one will be input from us guys. If your bride is like mine, she has been planning this in her head since she was 5 years old. They somehow know what they want and sometimes the simple gesture of listening for 5 minutes and talking something out will relieve so much stress on whatever million tasks the bride is currently working on.
During wedding planning, the bride isn't always right, but 99.999% of the time she is.
Grooms Good Luck and Happy Wedding Planning,
Jayson aka "The Groom"
Dawn is one of our featured Brides-To-Be. See more of her stories
and other Door County Brides-To-Be stories in our Wedding Inspiration.
See More of Dawn's (and Jayson's) Story!